Simlife Electric has been established as a Power Electronics company engaged in the Design, Manufacturing, Marketing and sales of Power Electronics Products. Our traditional business model is based on the accomplishment of indigenous State of Art Technology Design and Development along with local Manufacture and sales across India and the rest of the world.
The company – a start up (officially recognized as a start up by the DIPP Govt of India) founded in April 2016 has Technical Manpower on par with the best in the world with employees and consultants having degrees, Masters and Ph.D from IITs, IISc and reputed institutes.
The company has developed India's Only and First 2kW true Hybrid Battery backed grid tie Solar Inverter duly tested and certified by UL for all IEC standards specified by MNRE and all state EBs.
About The Founder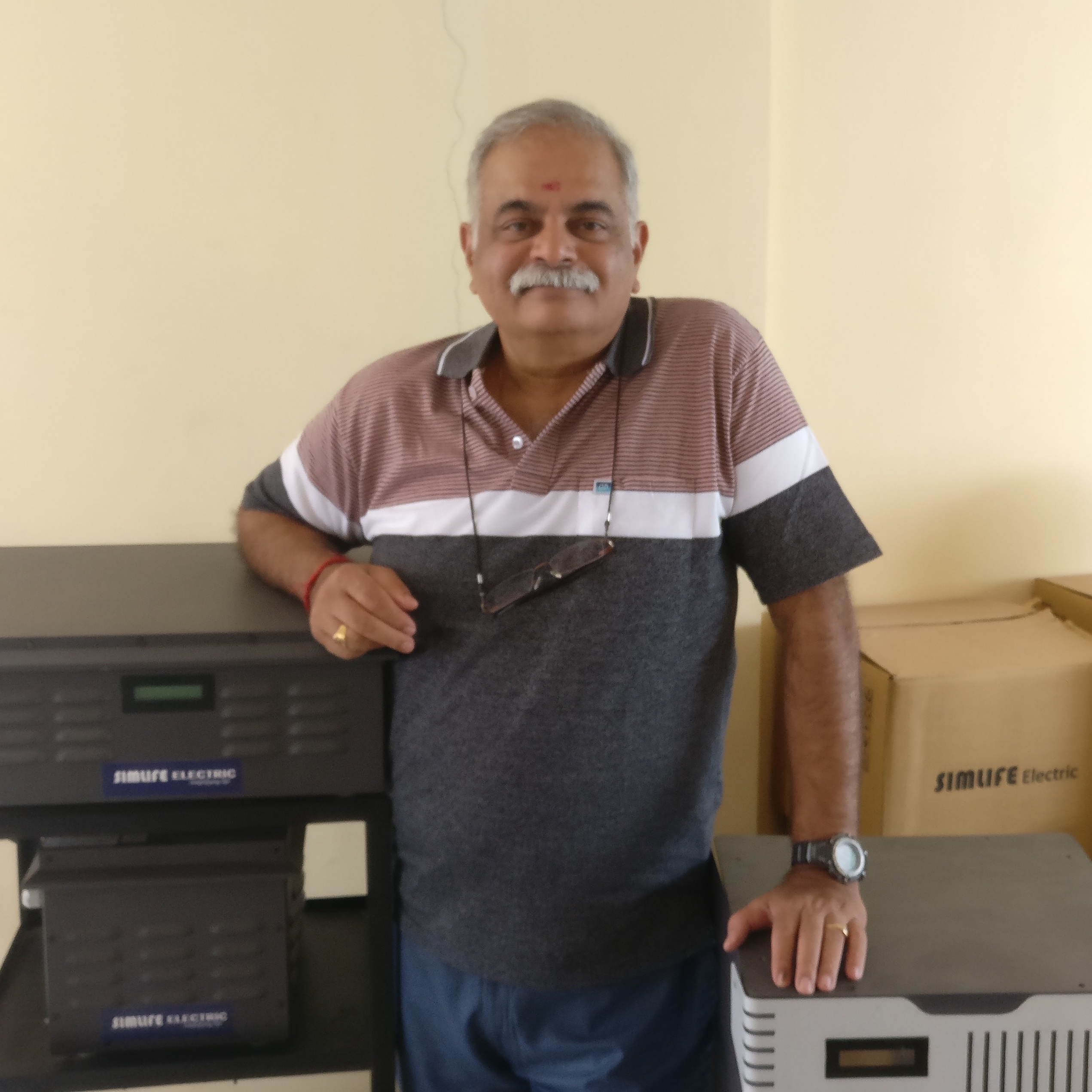 39+ years experience in R&D, Manufacturing and Sales. Founded Simlife-Electric in the year 2016. Started Multiple Centers Of Excellence (COE) -GE, APC, Bloom, Schneider electric, SunEdison, Infineon – resulting in more than 100 Millions USD worth of products Designed and Manufactured every year-in India.
Dr. Pavana Kumar and team is experienced and well versed in NPD Process, 6-sigma and has successfully designed and launched products like UPS 350VA – 40kVA, Drives – DC and AC, Energy meters, Ballasts, SMRs12000A, String inverters 25kW -50kW, Solar inverters-100W-50kW, SOFC Fuel cells, Wind Converter 1.5MW, Direct Drive. He has a number of international Patents and IEEE Publications.
Vision & Mission
To create a center of excellence and deliver products meeting cost, quality and speed. To provide quality products and services that exceed the expectations of our esteemed customers.
To build long term relationships with our customers and clients and provide exceptional customer services by pursuing business through innovation, advanced technology and employee leadership. To Respect all.
Core Values
We believe in treating our customers with respect and faith. We grow through creativity, innovation and engineering. We integrate honesty, integrity and business ethics into all aspects of our business functioning.
Goals
Regional and Global expansion in the field of Power Electronics. Develop a strong base of key customers. Increase the assets and investments of the company to support the development of Design, Manufacture, Marketing and Sales services.To build good reputation in the field of Power Electronics and Solar / Renewable Energy and become a top Global player in the industry.